| | | |
| --- | --- | --- |
| | | |
| Lion Garden of Suzhou | | Suzhou High-tech Zone |
General Information
---
Suzhou, the cradle of Wu Culture, is a city with a history of more than 2,500 years, tracing back to the later Shang Dynasty. While talking about Suzhou, the old saying mentions it as a "Paradise on the Earth" or the "East Venice of the World", referring to its natural beauty, classical gardens, bridges and waters, traditional operas and soft dialect tone. The city is well-known to its classical gardens, in which two of them have been listed as the great world heritage sites. Situated in the downstream of Yangtze River Drainage Basin and Yangtze River Delta economic zone, Suzhou has been a national tourist center and has attracted visitors around the world. Not just for its natural beauty, its splendid history, or its cultural heritage, Suzhou's economy represents the highest growth and the fastest expansion in the past 5-10 years in the region and in China. The city' GDP has surpassed its any other neighbor cities except Shanghai in the region and more than 80 of the world top 500 corporations listed on the Fortune have set their offices in the town. suzhou is one of thirteen prefecture cities of Jiangsu and the cities including Changshu, Taicang, Kunshan, Wujiang and Zhangjiagang are under its jurisdiction. The flower emblematic of the city is osmanthus and the city tree is camphor laurel.
Geography, Resources and Climate
---
Suzhou is in the lower reaches of the Yangtze River and on the shores of Lake Taihu between north latitude 30°47' - 32°02', east longitude 119°55' - 121°20'. The city borders its great neighbor, Shanghai, on the east, Wuxi on the west, and other three cities of Zhejiang Province on the south. Dubbed "East Venice of the World" Suzhou is crisscrossed by rivers and lakes. Yangtze River, the most spectacular river in the region, flows through the city's north boundary but the Grand Canal runs down from north to south. The city has the jurisdiction over the Lake Taihu, being equal to about 2/3 of the proportion of the lake, nestling in its southwest territory. Yangcheng Lake, located in Changsu, attracts hundreds of thousands of travelers, coming each year to enjoy its beauty and aquatic food. Five county-level cities under Suzhou's jurisdiction are Zhangjiagang, Changshu, Taicang, Kunshan and Wujiang, nestling in from northeast to southeast of the city in turn. Suzhou is under the influence of East Asia Monsoon. The city has a mild and humid climate and is easily accessible by water, land and air traffic. Seasons are distinct, with usually hot summers and plenty of precipitation throughout the year. The average annual temperature is close to 20°C.
Jurisdiction
---
Suzhou jurisdiction includes twelve county-level divisions, of which five are districts, five are cities, and two are special industrial zones. The districts are the old urban areas of Suzhou while the five cities are recently designated as county-level districts being considered as suburbs and governed by the Suzhou city administration. The special industrial zones are specifically designated as new investment areas.


Canglang District


Jinchang District


Pingjiang District


Wuzhong District


Xiangcheng District


Suzhou Industrial Park


Suzhou High & New Technology Development Zone


Changshu City


Kunshan City


Taicang City


Wujiang City


Zhangjiagang City


Area and Population
---
Suzhou, with a population of around 6 millions and a total area of 8,488 square kilometers, is 100 km away from Shanghai and 200 km from Nanjing.
Economy, Industry and Environment
---
Suzhou's agriculture revenue has been in shrinking over years and now it only occupies about 3.5% of the GDP of the city. The traditional agricultural products are rice, wheat, cotton, mulberry and fruit. The city is spending more funding in developing its ecological forest and agriculture, high efficiency nurture and special aquatic products. Today, Suzhou has also been recognized as the "Most Aspiring City of Prosperity and Civilization in the Southeast of China", and is an open city with fast growing economy and frequent exchanges with other nations. It has officially been declared as part of "the Coastal Economic Open Zone of the Yangtze Delta". Comprehensive industrial system has been taking shape, and there has been tremendous expansion in foreign trade and international economic co-operation. Suzhou is constantly evolving and now offers its protected environment to all visitors around the world.
Transportation and Tourism
---
The city is located between Shanghai and Nanjing that is the provincial capital, and all road traffics connecting two cities are through Suzhou. The railway, Jinghu Railway (Nanjing-Shanghai), passes the city and Suzhou Railway Station is among the busiest passenger stations in China, having 139 trains stopping daily. T-Trains take only 45 min to Shanghai and an hour and a half to Nanjing. Suzhou is also conveniently linked by several highway/expressway including Huning (Shanghai-Nanjing) Expressway, Yangtze Riverine Expressway, Suzhou-Hangzhou Expressway. The new Suzhou Outer Ring Expressway was completed in 2005, connecting the peripheral county-level cities of Taicang, Kunshan, and Changshu. Sutong Yangtze River Bridge connects Nantong and Changshu, increasing the jurisdiction significance in communicate with the north of Jiangsu. Sutong Yangtze River Bridge opened in June 2008, connecting Nantong and Changshu of Suzhou jurisdiction and making the jurisdiction a new transportation hub for communication between the north and south of Jiangsu. Suzhou is abundant in water resource, including many canals, rivers and lakes. The city's waterway is one of the most convenient transportations for locals, travelers and cargo. Taking these rivers and canals, you can easily reach its water towns, neighbor cities including Hangzhou, the capital of Zhejiang province and Suzhou Port. Suzhou has its own airport, Suzhou Guangfu Airport, but this airport is principally a military base and is only partially used for civic transportation. Three nearby airports, including Wuxi Shuofang Airport, Shanghai Hongqiao International Airport and Pudong international Airport, serve the city's air passengers. The city is one of China's popular tourist destinations with historical and cultural significance. It provides more than 400 tourist sites including its classical gardens, parks, temples, lakes, and more. Each year, millions of tourists travel in Suzhou and bring back with memorable experiences.
Education
---
Suzhou is the host for a couple of well-known higher learning institutions in China. One of them is Soochow University, a national prestigious university listed in the national program, the Project 211. Xi'an Jiaotong-Liverpool University is the first Sino-British university established in China by both universities. The university was founded in May 2006 and recognized by the China education authority. It is an independent academic institution stationed in Suzhou. University of Science and Technology of Suzhou is a polytechnics and offers students programs in sciences and technologies. The city has well instituted compulsory primary education system, nearly 99 percent of school-age children are enrolled in schools. The secondary schools including high schools achieves significant graduate rate.
Culture and Folklore
---
Suzhou is a national cultural center in any sense of art, festival, classic garden, local traditions, even dialect and opera. Suzhou traditional handicrafts include Suzhou embroidery, scroll mounting, lanterns, fans, mahogany furniture, jade carving, silk tapestry, traditional painting pigments, and more. Other well-known traditional cultures are Suzhou cuisine, Kun Opera, Suzhou Opera and Suzhou Ballad-singing (Suzhou Pingtan) and soft spoken dialect. All of these cultural heritages have accompanied the city in its long history and fascinate all travelers domestically and internationally. Kun Opera is one of China's classic operas with a history of 600 years. As its influence on other Chinese folk theatre forms, the opera has been praised as the motherhood of dozens of operas and was honored as one of the Masterpieces of the Oral and Intangible Heritage of Humanity by the United Nations Educational, Scientific and Cultural organization in 2001. Suzhou classical garden makes the city an international reputation. Chinese gardens can be classified into two categories, private garden and royal garden. Suzhou's gardens are associated with the latter. These gardens originated from the desire to retire from the strife of officialdom and to shun from worldly affairs. There were once over 200 gardens in the city and 60 of them are still in the nice preservation today. Total nine of these gardens have been listed in the World Heritage Sites and the Humble Administrator's Garden is ranked at the highest rating of 5-AAAAA in the national tourist attraction ranking.
Notable Personage
---
In the history of Suzhou, many notable natives of Suzhou were famed and they were statesmen, scientists, painters, poets, celebrities, calligraphers, including Fan Zhongyan, a prominent politician in Song Dynasty, Fan Chengda, a well-known poet and ancient scientist of geography of Song Dynasty, Feng Menglong, a verbacykar wruter/poet of the Ming Dynasty, Tang Yin, a painter and calligraphist and poet in the Ming Dynasty, and more. In contemporary society: Yen Chia-kan or C.K. Yen, the President of the Republic of China during 1975-1978, Tsung-Dao Lee, a Chinese American physicist and a Nobel Prize winner for 1957 Nobel Prize in Physics, Chien-shiung Wu, a well-known American physicist, Zhang Binglin, a philologist in Qing Dynasty, and I. M. Pei or Leoh Ming Pei, a Pritzker Prize-winning Chinese American architect.
---
Back to home page
Advertisement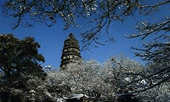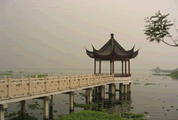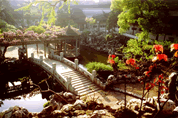 Advertise
Web Services
Live Poll
---