Jiangsu.NET Score


Location:
Suzhou
Address:
Zhouzhuang Township, Kunshan, Suzhou, Jiangsu, 215325
Fee:
Admission ticket for day tour:
100 Yuan/ticket
Admission ticket for evening tour:
50 Yuan/ticket
Operation:
Day tour: 8:00 - 17:30
Evening tour: 17:00 – 21:00
Route:
Suzhou-Zhouzhuang:
1. Suzhou North Long-distance Bus Station: a bus every 20 min, from 7:05to 17:00
2. Shanghai-Zhouzhuang:
Bus station at 88 Gongxing Road or Tel 86-21-5663 0230
20 Yuan/ticket
3. Ferries: Available via Jishui River from Shanghai and Hangzhou.
4. Airport/railway unavailable

---
Zhouzhuang is a township of Kunshan City - a county-level city under the jurisdiction of Suzhou City, Jiangsu Province. The town is situated between Suzhou and Shanghai, 30 km the southeast of Suzhou and 60 km the southwest of Shanghai. Dubbed 'Venice of the East', this town boasts the best water town preserved in China. The town has a history of over 900 years and most of residencies and houses in the town were built in Ming (1368-1644) or Qing Dynasties (1644-1911).The rivers and streams in Zhouzhuang crisscross the town and are spanned by 14 stone-arch bridges constructed in Yuan (1271-1368), Ming, and Qing Dynasties. Many thanks to these waterways, the town avoided the chaos that might be caused by wars in the past dynasties and most of its architectural layouts have eventually remained intact. There are many fantastic places and views to visit and see, including Twin Bridges, Fuan Bridge, Shen House, Milou Tower, and more. Many bridges in the town show unique bridge traditions different from other designs. The most amazing view displays a house where a boat can enter the property through the front gate and sail through the courtyard. The public was aware of the beauty of Zhouzhuang in 1985 after the painting, the Remembrance of My Hometown, by Chen Yifei, was presented to Deng Xiaoping, the China's most respected political veteran, by Mr. Armand Hammer, chairman the board of the Occidental Petroleum Corporation of the United States. The town has been listed with the highest ranking of 5-AAAAA among the national tourist attractions, and in 2001 Zhouzhuang hosted the Informal Trade Ministerial Conference of the Asia-Pacific Economic Cooperation. This year the town has once again been selected as one of the top 50 China's tourist attractions in a nationwide survey. There are more than 1 million tourists visiting the small water town each year.
Comments
The best preserved ancient Chinese water town, 'Venice of the East', the top 5-AAAAA tourist attraction, one of the top 50 China's best tourist attractions selected in 2006. Highly recommended.
---
Back to home page
Advertisement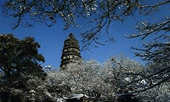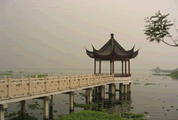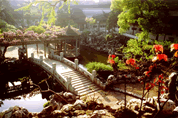 Advertise
Web Services
Live Poll
---