Jiangsu.NET Score


| | |
| --- | --- |
| Location: | Suzhou |
| Address: | Downtown of the city, Suzhou, Jiangsu, China |
| Fee: | Free access |
| Operation: | All seasons, year around |
| Route: | All buses to downtown or take a cab |

---
This street has existed since 1930 and has been renovated many times since then. On June 1982, the street was designated by the municipal authority as a "walking street" and a new night market was established. The street has been honored as the one of the Four Most Famous Walking Streets in China (other three: Nanjing's Fuzimiao, Shanghai's Cheng Huang Miao and Beijing's Tianqiao). Lying in the downtown core of Suzhou, the main theme of the street involves eating, shopping and entertaining. There are hundreds of shops, restaurants, bars, stores and clubs in old fashioned structures surrounded by colorful signs and neon lights along the street. A Taoism temple, the Xuanmiao Temple, is situated on Guanqian with its front entrance facing the street and providing the thriving and noisy street with solemnity and calm. The temple has a history of 1,300 years and is a cultural site for locals and visitors.
Comments
The best place in Suzhou for shopping, dining and entertaining.
---
Back to home page
Advertisement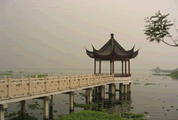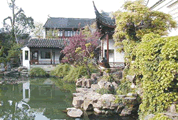 Advertise
Web Services
Live Poll
---