Jiangsu.NET Score


| | |
| --- | --- |
| Location: | Suzhou |
| Address: | 3 Lingering Street, Suzhou, Jiangsu, China |
| Fee: | 20 Yuan/ticket for peak-season, 150 Yuan/ticket for low-season |
| Operation: | 7:30 – 17:30 Monday to Sunday |
| Route: | Bus No. 1, 5, 27, 30, 39, 101, 102, 103, 218, and Tourist Bus No. 2, 4, 5, all to the garden |

---

| | |
| --- | --- |
| Phone: | 86-512-6519 4375 |
| Email: | |
| Website: | |
Canglangting Pavilion (Canglangting Garden) is one of the four most famous gardens in Suzhou and has been listed as a 4-AAAA national tourist attraction and a site on the World Heritage list. The garden was initially erected in 1044 in the Song Dynasty as a private residence and was enlarged as a garden in later years and named as the Pavilion of the Azure Waves. The garden passed through several hands. Between the 13th and 14 centuries, the estate served as a Buddhist monastery and during the Ming Dynasty (1368 – 1644) it is reverted to private ownership. Owing to Buddhist influence, the garden offers some features of special interest that distinguish it from other gardens in Suzhou. These features include a low surrounding wall with large openings, and a double arcade connecting the inner and outer sections. This garden is in the southern part of city and is one of the oldest in China's history. The layout is more natural and less architectural. The basic elements of water and rocks and hills are present, forming the backbone of the garden. Notable highlights of the garden were the lattice windows and doors of many different shapes and sizes. These windows and doors serve dual purposes. They are decorative elements and they frame the beautiful sceneries. They frame both small sights within the garden and the distant mountains, "including" them as part of the garden. This creates an illusion making the garden seeming larger than its actual size.
Comments
It is ranked as one of 4-AAAA national tourist attraction, one of the four most famous gardens in Suzhou, one of the World Heritage sites. Recommended.
---
Back to home page
Advertisement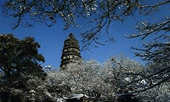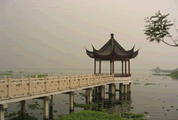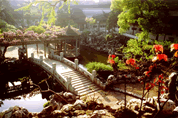 Advertise
Web Services
Live Poll
---